Springtime Home Maintenance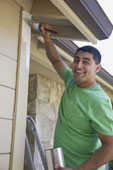 You know spring has sprung when you have the desire to do some spring cleaning! Spring is also a great time of the year to take care of home maintenance items that will help keep your home in great condition. Utilize the list below to keep both the structure and mechanical parts of your home in tip top shape.
Air Conditioning
Have your a/c unit serviced by licensed professional annually.

Filters and vents
Change or clean a/c filter monthly. Clean dryer duct and exhaust vents in laundry and bathrooms and over stove.

Doors and Windows
Seal drafty doors and windows.

Rain Gutters
Clean out rain gutters and down spouts with power washer.

Safety Equipment
Check or replace multi-purpose fire extinguishers and batteries for smoke detectors.

Fireplace
Have cleaned and checked for cracks.

Drainage
Make sure water drains away from the foundation of your home. You should have several inches of space between the bottom of your siding or stucco and soil, exposing a few inches of your foundation.

Fencing
Ensure that fence planks are secure to protect animals and children from getting in our out of yard. Also make sure that fencing around pool is secure.

Roofing
Check attic for signs of roof leaks and check condition of roof.

Light Bulbs
Make sure the light fixtures inside and on the exterior of your home all have the correct wattage.

Exterior Lighting
Consider installing a lighting protection system on your home.

Fascia and Trim
Check the fascia and trim for deterioration.

Attic
Check for pests and animals, proper ventilation and insulation. Consider installing an attic fan to save on cooling costs.

Firewood
Remove firewood stored near the home. Firewood should be stored at least 18 inches off the ground at least 2 feet from the structure.
Please contact me if you need a reference for a professional who can assist you with maintaining your home. I have preferred vendors who service Visalia, Tulare, Exeter, and the surrounding areas in Tulare County.