What To Consider Before Building a New Home
By Natalie Sweeney
SOMEONE IN YOUR CORNER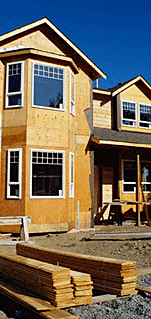 Building a home isn't for the faint hearted. Having a trusted
professional in your corner can ease some of the stresses
you may experience along the way. Many people do not
know that the agents working at a subdivision work for the
seller/builder only and do not represent you, the buyer, and
your interests. Since you will pay no more for your new home
when you have an outside REALTOR®, why not have someone
representing you and your interests? The builder pays the
commission, so it will not cost you a dime, literally, to have
someone who may save you thousands of dollars in return.
Natalie Sweeney is the New Home Specialist who can best
help you with your purchase of a new home. Her years of
experience in the real estate industry include years spent
working for two builders, Ennis Homes and Centex Homes.
Natalie not only knows the ins and outs of the process, but
knows what questions to ask and is familiar with the various
builders and their products. Natalie will assist you with the
many choices along the way by making sure you have the
information you need to make the decisions that are best for
you and your family.
Don't just take our word for it. "EXCELLENT" is the word 100%
of Natalie's homebuyers used to describe her while she worked
for Centex Homes. Natalie received special honors and awards
for getting a rating of EXCELLENT (the highest rating possible)
in Customer Satisfaction 100% of the time, as surveyed by The Walker Group, a National
Independent Survey Corporation.
Contact Natalie for information about various neighborhoods and builders and to find out how she can assist you. Please note that most builders have a policy that if you are going to have separate representation, your REALTOR® needs to be with you when you first visit their neighborhood.
BENEFITS OF PURCHASING AND BUILDING A NEW HOME
LOCATION, LOCATION, LOCATION
FREEDOM TO CHOOSE
Various architectural designs.

A variety of floor plans.

Almost endless options and amenities.

Coordinated colors, fabrics, textures.


Professional assistance at design center.
ENERGY EFFICIENCY
Builders must follow the most recent codes and requirements for energy efficiency.

Appliances are the latest in efficiency and cost-effectiveness.

Spectrally selective windows keep the heat and cold out, keeping you comfortable while saving you money on your utility bills.


Higher AC seer requirements and tankless water heaters run more efficiently, saving you money on your monthly utility bills.
WARRANTIES
Builders offer you a one-year or two-year "Fit and Finish Warranty."

Senate Bill 800, known as the "Right to Repair Act," applies to new homes. It is designed to give the builder the right to repair (thus avoiding lawsuits) and the consumer a speedier and more accurate resolution to any issues that may arise.


Some builders opt to be an SB800 builder, which gives the buyer even more benefits, including a 10-year policy of coverage that stays with the home, even after it is sold.
FINANCIAL BENEFITS
New homes need fewer repairs; the "big ticket items" are not issues for years to come.


Builders often offer large incentives that can be used toward a price discount, upgrades, or closing costs.


Often new homes increase in value at a greater rate than existing homes.